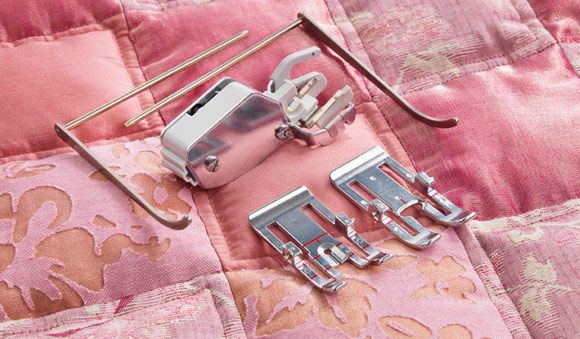 Husqvarna Viking Interchangeable Dual Feed (5-8)
Regular price
$224.99
Sale price
$179.99
Save $45.00
/
---
The Dual Feed Foot with changeable presser feet is designed to feed layers of fabric and/or batting evenly. It is perfect for quilting, sewing velvet, stretch fabrics, imitation leathers and fabrics need precise pattern matching. Snap on the Changeable Straight Stitch Foot. Select the center needle straight stitch. Adjust it up to a maximum stitch length of 6. Snap on the Changeable Zigzag Foot and select stitches up to a maximum of 7mm wide and 6mm and long.
Other information
1. Remove the presser foot ankle by unscrewing the ankle screw.
2. Place the Duel Feed Foot onto your machine from the back, positioning the fork over the needle clamp screw. Screw the Dual Feed Foot onto the presser foot bar with the presser foot ankle screw. Reduce presser foot pressure to 3.

Snap-on and remove the changeable presser foot
3. With presser foot bar in the up position, place the presser foot under the Dual Feed Foot.
4. Push the changeable foot upwards so that it snaps into place.
5. To remove the changeable foot, push the front of the foot upwards until the foot snaps off.

How to attach the guide
The two guides included with the Dual Feed Foot will help you sew parallel rows of stitching side by side as in channel quilting or tucking. There is one guide for the left side, and one for the right.
6. Insert the guide into the hole in the back of the dual feed.
7. Adjust the space between the foot and the guide by pulling it to the left or to the right.
Not for EMERALD™ 122, 118 and 116 machines.
MLQC offers Free Shipping within Canada over $200. Rates vary by Province under $200.
See our policy page for shipping and return details.