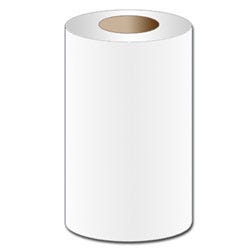 Vilene™ D0102 - 12"x 10 Yd Roll
---
Vilene™ D0102 by Freudenburg is a non woven dissolvable stabilizer.
Vilene™ has the look, feel, and the strength of a cut away but washes away in seconds when submerged in warm water. Vilene™ is essential and ideal for applique, heirloom sewing, sweaters, towels, T-shirts, sweat shirts, and napkins. Often one layer of Vilene™ is all that is required for most jobs. Vilene™ is stable enough to hold high stitch count designs without falling apart. You may wish to consider two layers when embroidering dense lace.
Vilene™ D0102 is sometimes referred to as "Wet N Gone" or "Aqua Magic".
VILENE™ USAGE AND TIP INFORMATION
For stiffer projects, you can rinse the Vilene™ for just a couple of minutes, pat out excess water, and shape your lace or fabric.

Lay Vilene™ WSS and fabric over the outer hoop, place fabric in correct position and hoop the project.

Make sure that your hoop is set so that the stabilizer and fabric fit snugly before hooping.

Cut enough stabilizer to cover the hoop and hang about an inch over the edge.

Unhoop your fabric and cut away any excess Vilene™ water soluble stabilizer.

If necessary give the Vilene™ a few tugs in order to remove any wrinkles.

Thoroughly wash out Vilene™ with warm water.
MLQC offers Free Shipping within Canada over $200. Rates vary by Province under $200.
See our policy page for shipping and return details.