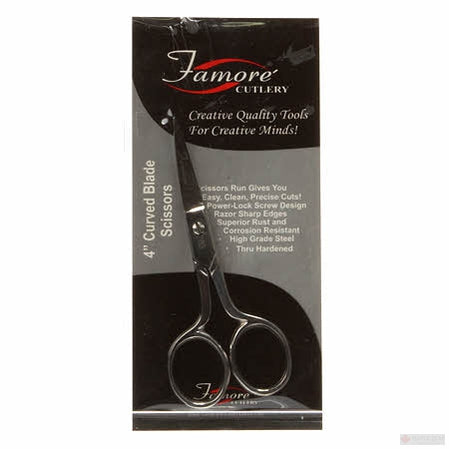 Famore Curved Embroidery Scissor 4" Large Finger Holes (761SP4)
---
In stock, ready to ship

Inventory on the way
Large Ringed Fine Tip (Curved) Scissors (Large Ringed Handles, Curved Blades, and Fine Sharp Tips) These scissors are a perfect addition to any sewing, quilting or embroidery basket. The Large Ringed handles: Large rings add to comfort & allows you to get in and out of the scissors quickly and easily. The Curved Blades: Protect your projects from getting jabbed, stabbed, or snagged. Famore's Curved Scissors allow Safe Controlled Cuts for everything from Quilting and Embroidery to surgical stitching and even pet grooming. For example: you may need to carefully tease out and snip a thread without worrying about damaging the surrounding threads or the underlying fabric, in which case Famore's Curved Scissors are ideal. As usual, our hand crafted Famore brand scissors are forged from a German grade stainless steel with razor sharp edges - assuring you a perfect & precise cut.
MLQC offers Free Shipping within Canada over $200. Rates vary by Province under $200.
See our policy page for shipping and return details.