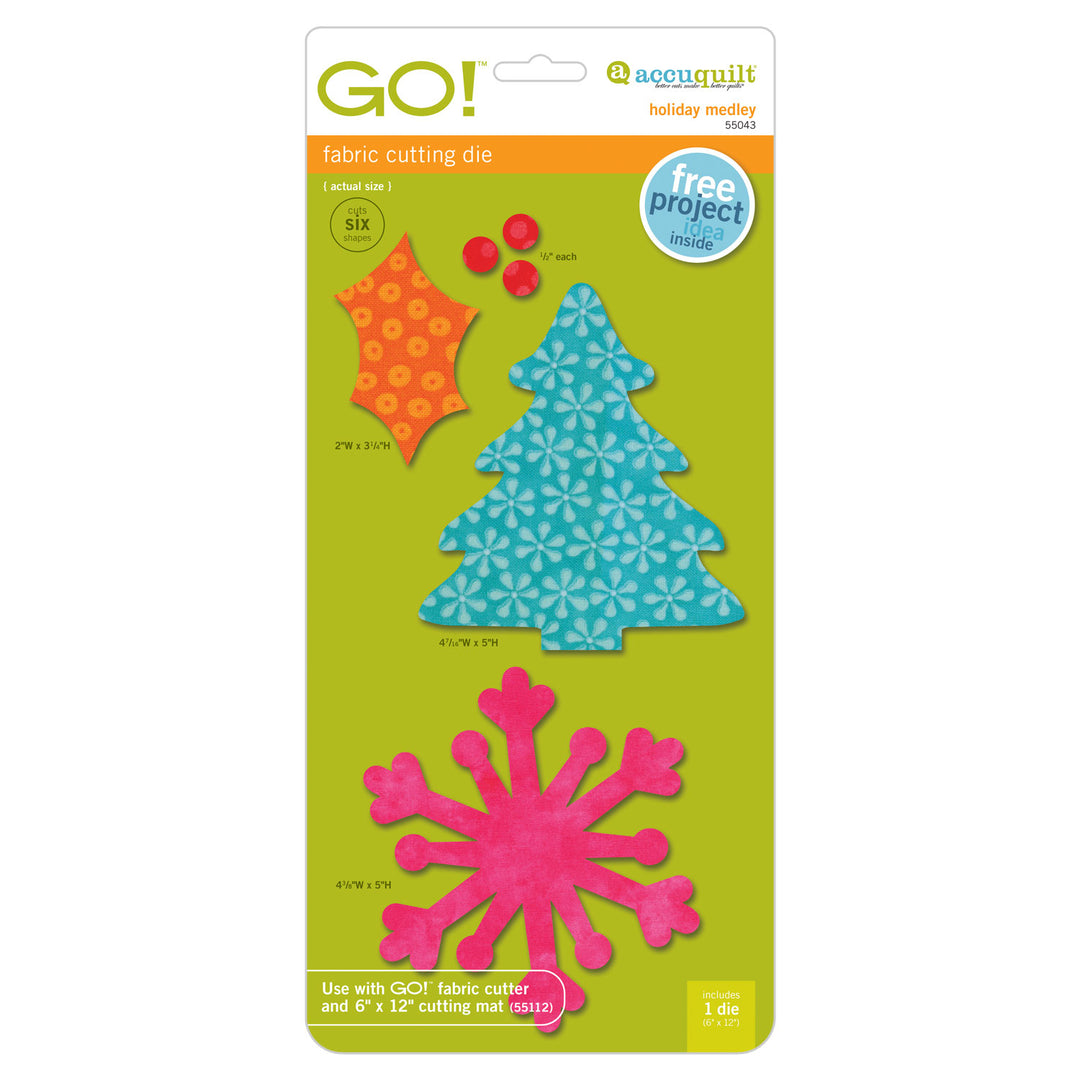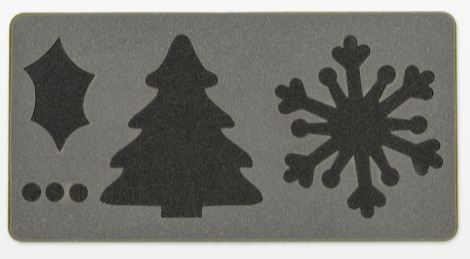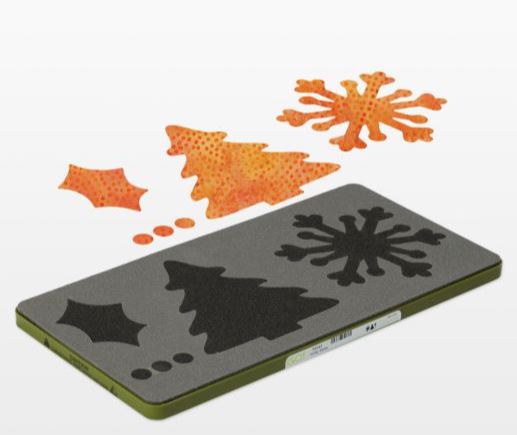 GO! Holiday Medley Die (55043)
---
The winter holiday season is a busy one for most quilters. Why spend hours cutting out holly, trees and snowflakes, when the GO! Holiday Medley can precisely cut these classic designs from multiple pieces of fabric at once. Want to turn these holidays shapes into easy appliqués? Simply apply fusible web to the wrong side of fabric before cutting and there you go!
Compatible With These Fabric Cutters:

GO! Baby  -  GO! Me  -  GO!  -  GO! Big Electric
AQ Cutting Mat Required: 55204
How to Die Cut Holiday Medley Shapes:
Apply fusible web product to the wrong side of the fabric, following manufacturer's instructions, before cutting for fusible appliqué.
Snowflake:

 

Cut and fuse 4 7/8" x 5 1/2" rectangles. Cut 7 snowflakes across the width of fabric. One yard of 40" wide fabric cuts 49 snowflakes. 
Tree:

 

Cut and fuse 5" x 5 1/2" rectangles. Cut 7 trees across the width of fabric. One yard of 40" wide fabric cuts 49 trees. 
Holly Leaf:

 

Cut and fuse 2 1/2" x 3 3/4" rectangles. Cut 10 holly leaves across the width of fabric. One yard of 40" wide fabric cuts 140 holly leaves. 
Berry Circles:

 

Place scraps on blade and cut. 
Why Quilters Love the GO! Holiday Medley Die: 
Perfect for winter or holiday-themed quilting projects by pairing with GO! Sleigh & Snowflakes or GO! Holiday Accessories (55322, 55321). 
Make a Four Seasons quilt using shapes from GO! Spring Medley, GO! Summer Medley, GO! Fall Medley and GO! Holiday Medley (55494, 55496, 55041, 55043). 
No templates required! The GO! Holiday Medley die includes applique shapes that are typically difficult to cut by hand. 
Great value! Get multiple applique shapes for the price of one GO! Medley die. 
Quickly and easily cut four of each pre-fused applique shape in one pass thru the cutter (fusible counts as one half layer of fabric). 
Cut holiday shapes out of a variety of fabrics: cotton, batiks, wool, felt, flannel, fleece, Cuddle® fabrics and more! 
A great way to use up scraps. 
Includes free embroidery download with 3 stitches ($22 value). 
Free pattern downloads available to get you started. 
Charm Pack-friendly.
AccuQuilt Benefits:
Cut so much more fabric in less time.
Get accurate cuts every time—No slipping rulers or mistakes
Easiest to use – Simply place die on cutter, then fabric and cutting mat on top
Save fabric with Two Tone Foam – Get more out of your fabric by placing it only over the shape you want to cut
Safe to use – No blades come anywhere near your fingers
Die Tips:
With some fabrics, after cutting, a thread or two will remain where die blades meet. Snip threads with scissors.
Blades on some dies are positioned at an angle. Align fabric to edge of shape, not edge of die board.
Use good quality fabric to reduce fabric stretch.
It's always a god idea to test cut one shape before cutting many shapes to ensure fabric orientation is correct.
MLQC offers Free Shipping within Canada over $200. Rates vary by Province under $200.
See our policy page for shipping and return details.