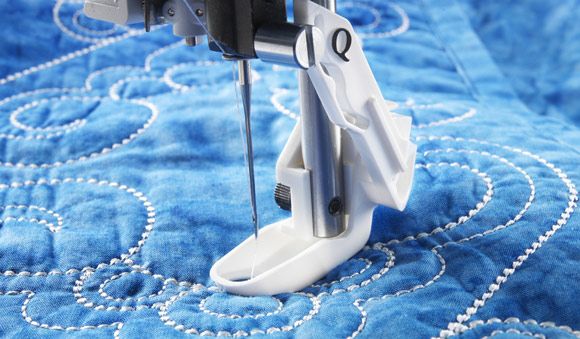 Husqvarna Viking SENSOR Q FOOT (7) (SENSOR SYSTEM™ Machines only -7)
---
The Sensor Q Foot is used for embroidery and free motion sewing, quilting and embroidery on especially thick or spongy fabrics. Put on the Sensor Q Foot for free-motion Quilting with puffy battings, free-motion and built-in embroidery on fabric with batting, thick terrycloth towels, and when there is a build up of embroidery thread or couched decorative threads.
For Sapphire series, select Free Motion Spring Action on the Set Menu.  For DESIGNER Series, select Sensor Q Foot on the Set Menu. 
1.  Remove the ankle and put the Sensor Q Foot. 
2. Bring the bobbin thread to the top by taking one stitch. 
3. Lower the presser foot. 
4. Sew, moving the fabric as desired to quilt the fabric, or create a free motion design.  Move the fabric in a smooth motion, moving the fabric faster and the speed of the machine is increased.  You are creating the length of the stitch as you move the fabric. 
Accessories: 7
MLQC offers Free Shipping within Canada over $200. Rates vary by Province under $200.
See our policy page for shipping and return details.